Babyplast 6/10VP (vertical)
Babyplast 6/10VP (vertical)
By Babyplast
Compact Size maximum Performance
Vertical Injection Molding Machine 6/10 VP
The Smallest Specialist For Insert Molding No Tie Bars
The vertical clamp version without the Babyplast tiebars. The injection and clamp assembly can be separated from the base part, which contains the hydraulic and electronic control, and thanks to its compact size (250x750mm h 870mm) can be installed directly into an automatic production line. This model is also available with rotating table.
The vertical Babyplast 6/10VP injection molding machine, guarantees maximum precision, thanks to injection by piston and pre-plastification. To obtain an optimum shot weight, 8 different piston diameters are available.
Specialist For Small Pieces With Inserts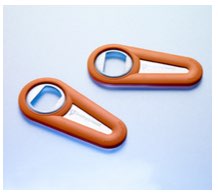 The version that closes vertically without Babyplast columns. Thanks to the reduced dimensions of the machine surface (246x173mm), it can easily be inserted in an automatic production line. Also available with a rotary table and a V-shaped table. Ideal for over-molding inserts and cables. In the various versions it can be used on all thermoplastic materials, MIM (Metal Injection Molding), CIM (Ceramic Injection Molding), LSR (Silicone), Rubber (NBR), Macromelt Holtmelts and waxes.
Features and Benefits
Maximum performance for insert molding
Compact molds that occupy minimum space
User friendly
Low power consumption
Perfect for integration directly into an assembly line
Easy to consult and user friendly display
Color touch screen display
User friendly
Memory for over 100 mold settings
Back-up on USB memory drive
Record log of last 20 cycles
Ethernet: modbus TCP connections
"V" table

Ideal for inserts
Mold with two lower (fixed) parts
Small foot print
Easy integration directly into an assembly line
2 station table – diam. 600mm
180° rotation in 2 secs.
Light barriers
Technical Data:
Micro-injection molding machine 6/10 VP
Standard
Standard Plus
Piston diameter (mm):
Volume (CMS):
Injection Pressure (KG/cm3):
Clamping force (KN):
Minimum mold height:
Maximum distance between platens:
Oil tank capacity:
161
Power Consumption:
3 KW
Weight:
350 kq
Powe supply:
3ph -230/400V-50/60HZ
Noise level:
<70dBA